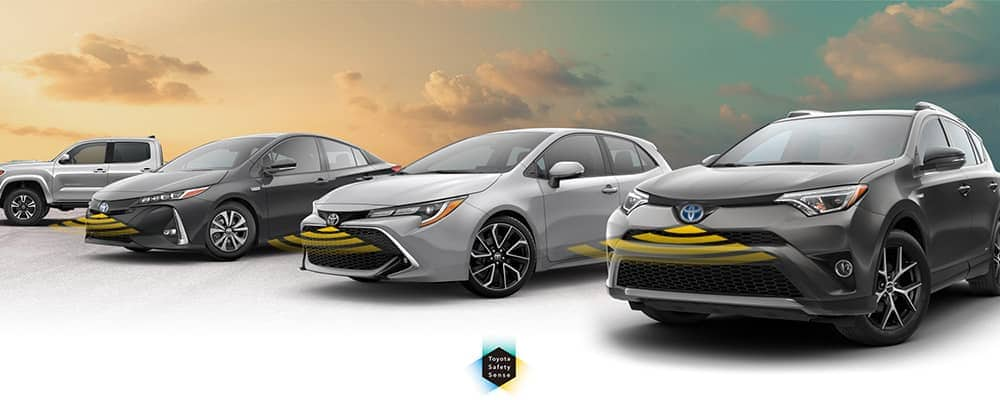 Setting the bar higher for standard safety technologies, Toyota Safety Sense™9 has revolutionized the way we think of safety features in our vehicles. We know that safe driving is a priority for Carol Stream area drivers, especially when it's winter, so we want you to be as informed as possible regarding the safety features available on new Toyota cars. Toyota TSS is a bundle of standard and available features that include features like automatic high beams, dynamic radar cruise control, pre-collision systems, adaptive cruise control, pedestrian detection, lane departure alert, and more. If you're a Chicagoland driver asking yourself, "What is Toyota Safety Sense?" we've got the answer to that question at Elgin Toyota. Read on to find out how Toyota Safety Sense works to keep you and your passengers safer during your Bartlett area commute.
Toyota Safety Sense™ 2.09 (TSS-2.0)
New this year, Toyota Safety Sense™ 2.0 (TSS-2.0) goes even further than the original to keep you safe and comfortable by adding onto the TSS-P suite of safety features. This new technology works by reading road signs and adding additional lane guidance systems. It retains the millimeter-wave radar, advanced camera systems, and features of Toyota Safety Sense™ P.
Toyota Safety Sense 2.0 is available on the 2019 Toyota Corolla Hatchback, the 2019 Mirai, and the 2019 Toyota RAV4 and RAV4 Hybrid SUVs, making the decision to
buy a new Toyota
over a used model an even easier one!
---
TOYOTA SAFETY SENSE™9 (TSS)
Is Toyota Safety Sense standard? TSS safety features are available on most of the Toyota lineup available at our Streamwood dealership. Additionally, our trained sales staff at Elgin Toyota can answer any questions you may have regarding TSS and the features specific to your Toyota of interest.
Together we can help make the road safe.
The road can be unpredictable. That's why the engineers at Toyota created available Toyota Safety Sense™9: to help protect drivers, passengers and pedestrians (TSS-P only) from harm. TSS is comprised of multi-feature active safety packages anchored by automated pre-collision warning and braking. TSS is designed to support the driver's awareness, decision-making and vehicle operation over a wide range of speeds under certain conditions. Packaged together in an integrated system, TSS features help address three key areas of accident protection: mitigating or preventing frontal collisions, helping to keep drivers within their lane, and enhancing road safety during nighttime driving. Always drive safely, obey traffic speed limits and laws, and focus on the road while driving.
The original TSS suite is available in two packages: Toyota Safety Sense™ C (TSS-C)9 for compact vehicles and Toyota Safety Sense™ P (TSS-P)9 for midsize and large vehicles. Additionally, TSS 2.0 builds upon the best features of the original, and adds new safety systems to help with your Schaumburg drive.
---
Toyota Safety Sense™ C9 (TSS-C)
TSS-C features three proprietary active safety technologies, and combines a camera and laser for great performance and reliability. The package can help mitigate or prevent collisions in a wide range of vehicle speeds under certain conditions.
---
Toyota Safety Sense™ P 9 (TSS-P)
TSS-P combines an in-vehicle camera and front-grille-mounted, millimeter-wave radar for enhanced performance and more functionality.
---
Make Your Next Toyota Safer: Find Your Next Vehicle with Toyota Safety Sense™
Available On: Avalon, Avalon Hybrid, Camry, Camry Hybrid, C-HR, Land Cruiser, Corolla, Corolla Hybrid, Highlander, Highlander Hybrid, Prius, Prius Prime, RAV4, RAV4 Hybrid, Tundra, Sequoia, Tacoma, Sienna, Yaris Liftback, Prius c*
*Pedestrian Detection not available on Yaris Liftback.
---
---
---
---
2019 Model Year TSS Features and Operations
2018 Model Year and Prior
TSS OVERVIEW
All Model Years
TSS PRECAUTIONS & LIMITATIONS
Disclaimers