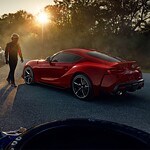 The previous Supra models from the 1990s had a pretty sporty build. However, the new sports coupe from Toyota delivers a more powerful engine with 335 horsepower. The six-cylinder twin-turbo engine is from BMW. The German automaker partnered up with Toyota to create a similar experience as the BMW M340i and Z4 M40i. The finely tuned engine gets up to 60 mph in simply 4.1 seconds. It's an amazing feat for an affordable sports car.
The new Supra also delivers an eight-speed automatic, and you can switch up the powertrain using different driving modes. The drivetrain is fuel efficient even with the powerful inline 3.0-liter six-cylinder engine. While the EPA estimates the rating at 31 mpg on the highway, you can easily squeeze more out of that using one of the fuel-efficient driving modes.
You can see all of the performance in the latest lineup when you visit Elgin Toyota located in Streamwood. It's the best place to get new car specials and the red-carpet treatment.