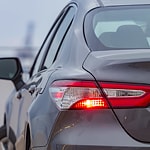 Many people in Streamwood drive in all types of weather. Whether you're taking on a spring thunderstorm or icy winter roads, the Toyota Camry has what it takes to keep you in command. This popular midsize sedan is designed to perform beautifully, no matter what's happening outside.
If you spend time in icy, snowy, or wet weather, the available dynamic torque-control all-wheel drive is a must. This intelligent system keeps track of the movement of your wheels; if the front wheels start to slip, the AWD ramps up the torque in the rear. That boosts traction and ensures that you stay in control.
No matter what the weather, the Camry's Direct Shift transmission creates a stable feel. Lightweight and highly responsive, it gives you a confident, comfortable feel as you're driving across town or getting on the freeway. To find out more, test-drive the Camry at Elgin Toyota.