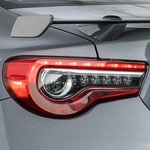 The Toyota 86 is sure to appeal to sports car aficionados throughout Streamwood and beyond. Elgin Toyota is the local supplier of this popular high-end vehicle. Our team is excited to offer you the chance to take one out on the road here at our conveniently located showroom.
The 86's interior puts style front and center. Bolstered, racecar-inspired seating makes tackling even challenging roads easy and comfortable, and available contrasting accents supply visual interest. The rear seat also collapses to create additional storage space for extra gear.
Rich detailing and designer embellishments on the dash and elsewhere throughout the passenger cabin will serve to make even routine trips more exciting. You're also certain to appreciate the carefully configured console and the deluxe instrument panel that allows you to stay on top of important operating information.