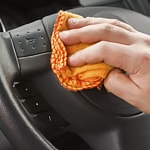 Whether you're faced with an unexpected passenger or you're simply tired of dealing with a cluttered, messy automobile, Elgin Toyota has some much-needed car-cleaning advice for you. Follow these steps to spruce up your vehicle quickly, and keep us in mind the next time that you're shopping around for a vehicle in Streamwood.
Assemble trash bags, window and surface cleaners, microfiber towels and all other supplies that you'll need to prevent unnecessary interruptions to the cleaning process. Gather obvious trash into one bag for immediate disposal and all other items into a separate bag for sorting out later.
Wipe down the interior windows, the dash, the console, the door trim and other hard surfaces with the appropriate cleaning solutions. Dust seats with a dry rag, and shake out the floor mats. Clean the exterior windows and windshield, and give the tires a brief hose-down if time permits.