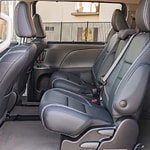 Comfort and convenience are front and center when it comes to the Toyota Sienna. This versatile minivan comes with enjoyable features like a Dual-View Blu-ray Disc Entertainment Center, Auto Access Seat and the Smart Key System. The Sienna is likely to satisfy Streamwood's convenience-oriented drivers.
Included in the Dual-View Blu-ray Disc Entertainment Center is a 16,4" color display as well as a remote and wireless headphones. Children and adult passengers alike can easily enjoy their favorite movies with this automotive entertainment system.
The Toyota Sienna's Auto Access Seat is something Elgin Toyota knows will also be convenient for owners of this minivan. It creates a simpler entry and exit process for passengers. Meanwhile, the Smart Key System is great for hand-free opening of your Toyota Sienna's doors. This will make running errands with the Sienna and loading cargo quite a bit easier for you.