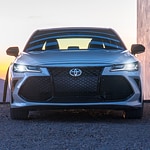 The safety features of the Toyota Avalon make it safer for a driver to protect the passengers from serious physical harm. Some of the safety features can include:
Overhead airbags
The overhead airbags are used to help protect the occupant's heads in the events of a rollover or a side collision.

Front-impact airbags
These airbags have been designed to help the driver and the passengers from a frontal crash.

Knee airbags
These airbags protect the vehicle occupants lower the various extremities from various injuries during an accident.

Pretensioners
The seatbelt pre-tensioners will automatically tighten the seat belts and help the occupant in proper seating during a collision.
Security system
The Toyota Avalon is designed with an anticipating means that detects any unwanted vehicle intrusion. It has an ignition disable device that will protect the engine from starting if the correct key is not used.