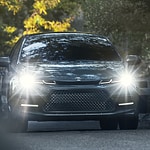 When you want a vehicle that demands attention through its sleek design and helps you keep your attention on the road, you should choose the new Toyota Corolla. This vehicle has all of the benefits that it has had in the past, but it also offers some technology features that will keep you safer by helping you stay attuned to what's happening on the road. Let Elgin Toyota tell you more about these technology features.
The Road Sign Assist helps you keep track of road signs by detecting them and displaying important information, such as the exact speed limit, on the Multi-Information Display. So even if you didn't see the speed limit sign, you're not guessing about how fast you should be going.
You'll also like the Automatic High Beams, which can sense the headlights and tail lights of vehicles around you. It then adjusts between the regular beams and high beams according to the surroundings. This helps you maintain the safest lighting conditions at all times.